Snorkel Diver Grades
Dolphin Snorkeller
This course introduces snorkelling to children via a series of seven progressive fun sessions. Each session is named after a different type of dolphin, and completion of a session results in the award of the corresponding dolphin sticker. Once students have collected a complete set of dolphin stickers, they can be awarded the grade of BSAC Dolphin Snorkeller. Dolphin Snorkellers who wish to continue their snorkel training need only to complete the Snorkel Diver classroom lessons and knowledge assessment to be awarded BSAC Snorkel Diver.
Snorkel Diver
There are classroom sessions to teach the theoretical knowledge of snorkelling, coupled with practical lessons in the pool or in sheltered water. The training is structured and progressive, building skills and confidence.


Advanced Snorkeller
There are classroom sessions to teach more advanced theoretical knowledge of snorkelling, coupled with practical lessons in Open Water. An Advanced Snorkeller is a comprehensively trained, experienced and responsible snorkeller.


Snorkel Dive Manager
The Snorkel Dive Manager is the person in overall charge of all the groups of snorkellers as well as being responsible for making all the arrangements for the snorkelling activities. The Snorkel Dive Manager course teaches the organisational, leadership and planning skills needed to take on this role. He or she needs to be an experienced snorkeller and a responsible person, able to plan ahead and anticipate possible problems.
Snorkelling Instructor Grades
Teaching snorkelling can be a hugely rewarding experience. Why not give it a go?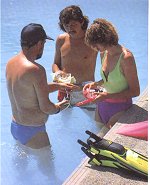 There are three main levels of BSAC Snorkel instructor:

Snorkel Instructor
Advanced Snorkel Instructor
Snorkel Instructor Trainer

Please note:
BSAC scuba diving instructors who want to become either Snorkel or Advanced Snorkel Instructors must attend the appropriate Training Course and Assessment.

1. SNORKEL INSTRUCTOR
Entry requirement: BSAC Snorkel Diver, minimum age 16 years.

2. ADVANCED SNORKEL INSTRUCTOR
Entry requirement: Snorkel Instructor, Dive Snorkel Manager, Advanced Snorkel Lifesaver, minimum age 16 years.

3. SNORKEL INSTRUCTOR TRAINER
Please contact the Diver Resources Team (DRT) at BSAC HQ for information on becoming a Snorkel Instructor Trainer.
---
For further information about qualifying as an instructor of snorkelling activities, please
contact the British Sub-Aqua Club Headquarters.