Equipment
To begin with you will not need anything as the first thing that we as a club need to do is to assess your swimming ability and your confidence in the water.
After completing the swimming assessment we will introduce you to the equipment
The Club has a selection of equipment that you may borrow for the first 2 or 3 weeks. We will then give you advice on choosing and purchasing your own equipment.
CHOOSING YOUR OWN EQUIPMENT
We recommend that you purchase your own snorkelling kit after your equipment lecture. Snorkelling kit doesn't have to be expensive. However it does have to be chosen carefully. The following tips will help you to choose equipment that will work well for you, and help you to enjoy your snorkelling.
AVOID buying snorkelling kit on the internet as trying on the items is essential. Also avoid ready assembled kit 'sets' as you need to buy the items individually for best fit. Your instructor at the club will also be happy to advise you.
The Mask
(Price Guide £30-£50)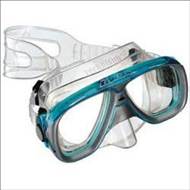 Buy a mask with tempered glass. Look for "T" or "TEMPERED" on the glass.
Best to ask for a "low volume" mask with a divided faceplate, (i.e. two windows).
Look for an easy-to-adjust, split strap for security and comfort. Check that you can adjust the strap whilst wearing the mask.
The mask must enclose your nose. And check that you can easily pinch your nose closed whilst wearing the mask.
Avoid masks with extra windows in the side or bottom, and avoid masks with valves.
Check that the mask has a "double skirt" made from silicone rubber.
Does the mask go on your face easily – not too small or too tight?
Wear the mask (with the strap) for several minutes. Is it comfortable?
Checking for a good watertight seal:
Hold the mask, glass down, in one hand. Bring the strap around the back of the same hand (you will not need the strap for this).
Sweep your hair clear of your face. Place the mask on your face. Inhale a little through your nose. Then hold your breath, remove your hands and be ready to catch the mask.
If the mask is a good watertight fit it should remain on your face for a few seconds before falling into your hands.
The Fins
(Price Guide £15-£40)
You need "pool fins." These have a full shoe made from soft rubber for a secure, comfortable fit, and a semi-rigid, slightly flexible plastic blade for pushing you through the water.
Fins with short blades are not suitable.
Ideally the blade of the fin should be at a slight angle to the shoe. Easier finning!
Avoid the expensive "gimmicky" fins. Reasonably priced, simple fins will serve you very well.
If buying for kids, buy fins that are slightly too big – they can wear socks until they grow a bit. Keeps costs down!
Try them on to check fit and comfort.
The Snorkel
(Price Guide £5-£15)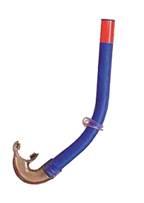 Having the right snorkel is vital! As with much snorkelling kit, "expensive" does not always mean "better."
Buy a simple "J" shape – a rigid plastic tube, with a soft silicone rubber mouthpiece at the bottom.
Check that the silicone rubber mouthpiece has a retaining flange to go between your lips and teeth, and bite blocks for the teeth to grip. It may be possible to get smaller mouthpieces for kids.
The snorkel should be 35cm to 40 cm long – not longer.
Avoid snorkels with valves at the top or at the bottom.
Avoid snorkels that have "bendy" or flexible bits between the tube and the mouthpiece. The "J" shape should be rigid.
A plain J-tube snorkel is ESSENTIAL for correct snorkel training in the Club.
The club normally holds a stock of suitable snorkels that new members may purchase. Please ask!
USEFUL TIPS
IF POSSIBLE, BUY YOUR KIT IN A BRIGHT COLOUR SO THAT YOU ARE EASY TO SPOT IN THE WATER!
POOL FINS: Choose flexible, semi-rigid plastic. NOT clear/transparent rigid plastic as they tend to split or fracture.
WEIGHTBELT - It should be made from brightly-coloured webbing with a quick release buckle. Start with a 1 kilo weight + retaining clip.
The RSC Starter pack information sheet (Word Document)
RSC Purchasing your Snorkelling Kit Document
DIVE SHOPS
SLOUGH SCUBA STORE
35 Elmshott Lane
Slough
SL1 5QS
Tel. 01628 666833
MIKES DIVE STORE
113 Power Road
Chiswick
W4 5PY
Tel: 020 3606 1966
DECATHALON
Intu shopping center
Hight Street
UB8 1LA Uxbridge
Tel:07469353013
DECATHALON
Canada Water Retail Park
Surrey Quays Road
London
SE16 2XU
Tel: 0207 394 2000
(Canada Water Underground)
OCEAN LEISURE
11-14 Northumberland Avenue
London
WC2N 5AQ
0207 930 5050
(Embankment Underground)
CLUB CONTACTS
Diving Officer:
Mob – 07821 666812
HAPPY SNORKELLING!